Post Description: The contents of this post will instruct you how to update the IDVisor Smart app on your IDVisor Smart/Smart Plus device.
Instructions: Follow the steps below in order to update your IDVisor Smart app to the latest version of software.
Note: Before proceeding with the steps below please ensure your device is connected to Wifi. For instructions on how to connect your Smart/Smart Plus to Wifi see here.
Step 1: Check the Wifi symbol (see red arrow) and confirm you are connected to a network. After you ensure you are connected to Wifi select Help.
Step 2: On the Help screen, select Check for Updates.
Step 3: After selecting Check for Updates, you will see a pop up window letting you know a new version of the IDVisor Smart app is available. Select Update when you see this window.
Step 4: After selecting Update, you will be taken to the download screen. After the download bar progresses to 100%, select Install.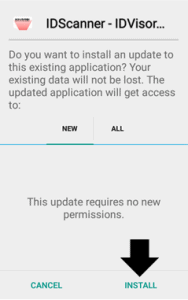 Step 5: After selecting Install you will be taken to the installation screen. The update will not erase any of your saved data and does not require any new permissions. Select Install to install the update.
Step 6: The update will be to install. After the installation is complete, select Open to access the IDVisor Smart app.
After selecting Open, you will be taken back to the Home screen of the IDVisor Smart app. Your device now has the latest update.
If you would like to confirm that your device has the latest update, go to Help > Check for Updates. You should receive a message saying that the latest version is currently installed.
If after attempting these steps you are still unable to update your IDVisor Smart app. Click here to open a support ticket to request further assistance.